Quality Light and Heavy Duty Construction Fasteners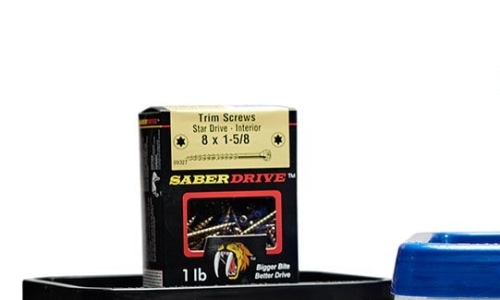 Clients in Southwest Michigan and throughout the United States have relied on Construction Fasteners for the highest quality of light duty and heavy fasteners and screws for more than 5 decades. Offering a superior selection of stainless steel fasteners, deck screws, lag screws, industrial fasteners, and more, we can supply reliable products to everyone from weekend do-it-yourselfers to large construction companies and everyone in between. With fasteners from some of the best brands in the industry, including SaberDrive Platinum and BuildRight, you are getting fasteners that provide a strong hold that will last and last. All of our products go through continuous improvements to ensure that they stand head and shoulders above the competition. In today's post, we will discuss the types of fasteners we have to offer and why you should count on Construction Fasteners for all of your projects, big and small.
Light Duty Fasteners with High Quality Performance
With deck screws, crocodile anchors, cement board screws, and more, our selection of light duty fasteners are perfect for a long list of minor construction projects around your home. Whether you are hanging a new cabinet in your bathroom, building a new deck onto your patio, or doing any other renovation work on your home, Construction Fasteners can provide you with the best fasteners available, giving your project the extra strength needed to ensure the structure stands for years and years. Backed by well-respected brands like SaberDrive Platinum or BuildRight, you can rest easy knowing that no matter how big or small your project is, you will get the durability and longevity you want for quality results that will last.
Get Heavy Duty Fasteners for Projects that Demand it
Certain projects require a higher standard of fasteners, due to the abuse they take from heavy foot traffic or severe weather conditions. Construction Fasteners can provide you with the highest quality of heavy duty fasteners for the most demanding construction projects. With a selection of lag screws, structural screws, ledgers, hammer anchors, and more, the SaberDrive Platinum line provides you the strong hold your project requires, backed by ICC approval. Don't jeopardize the durability of your heavy duty construction project to inferior fasteners. Rely on Construction Fasteners and get the peace of mind that your project will be a complete success.
The dedicated professionals at Midwest Fastener takes great pride in providing a wide range of the best light and heavy duty construction fasteners in the industry. Our customers demand the best in quality for their construction needs, and we source from only the best products from top brands, giving you the peace of mind that your construction projects will be successful and last a lifetime. Contact us with any questions you may have about the products we have to offer.