Quality Fasteners for Your Construction Projects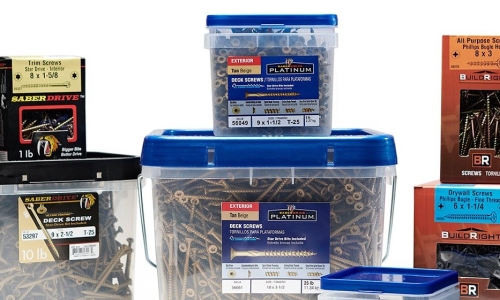 Midwest Fasteners can provide you with an extensive selection of quality construction fasteners to cover all of your interior construction projects. From remodeling projects for your current home to putting the final interior touches to a new home construction project, we can provide you exactly what you need to complete the work with the highest quality fasteners from the best brands on the market. The fasteners we offer have been specially designed to hold stronger and longer to give you peace of mind that your project will be stable for years to come. In today's post, we will discuss the high quality construction fasteners you can get from Midwest Fasteners for all of your construction projects.
Get Fasteners from the Best Brands in the Industry
You should never underestimate the importance of screws and other fasteners for your construction projects. When you choose Midwest Fasteners to supply the screws and fasteners you need, you get high quality fasteners that will hold strong enough to meet even the highest quality standards in the industry. We carry fasteners from the most respected brands, BuildRight, SaberDrive, and SaberDrive Platinum. These fasteners have been specially engineered to provide a durable hold no matter what sort of construction project you need to complete. They are also ICC-certified, so you can maintain compliance with all applicable building codes.
Effective Construction Fastener for Interior Applications
When you invest time and money into a significant construction project, you don't want to potentially jeopardize the quality of the construction with subpar fasteners. Lower quality fasteners will not hold as well, increasing the chances that you will need to do repair work when the fasteners fail. At Midwest Fasteners, we carry a full range of fasteners to handle a number of projects, like hanging drywall, installing new floorboards, replacing cabinetry, and much more. We can even provide you with masonry screws, deck screws, or anything else you need to ensure success for the projects you need to complete. After just one project with using our fasteners, we know that you will rely on Midwest Fasteners for every project you plan in the future.
Working with industry leaders, Midwest Fasteners, for all of your construction projects will produce superior results that cannot be matched. No matter how big or small your next project is, we can provide you with everything you need for efficient success. Contact us and let us know how we can help you with all of your construction fastener needs.