Light and Heavy Duty Fasteners for Your Construction Needs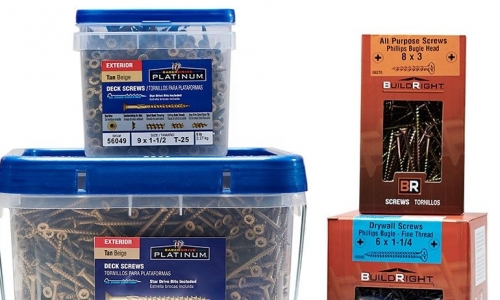 For more than 50 years, Construction Fasteners has provided the best light duty and heavy duty fasteners in the industry for clients throughout Southwest Michigan and the United States. We have a great selection of fasteners from the best brands on the market, like SaberDrive Platinum and BuildRight, so no matter if you need stainless steel fasteners, industrial fasteners, deck screws, lag screws, or any other fastener, you can rest assured that you will get high quality performance you need for a strong, long-lasting hold. The parts we carry have gone through years of innovation and refinement, so they are the superior fasteners on the market. Let's read further for more information about how you can benefit from the light and heavy duty fasteners we provide.
High Quality Light Duty Construction Fasteners
Our full selection of light duty fasteners, including deck screws, crocodile anchors, cement board screws, and others, are specially designed for a wide range of construction projects around the home. Whether you are adding a deck to your existing patio, upgrading the features in your living room, or any other minor project around your home, you can complete the project with confidence with the superior quality you get from SaberDrive Platinum or BuildRight products. We are sure that these products will meet and even exceed your expectations, not matter how large or small the project is.
Heavy Duty Construction Fasteners for More Demanding Projects
We carry a wide range of heavy duty fasteners that are specially designed to endure the harshest conditions and very demanding applications. Our heavy duty fastener products include lag screws, structural screws, ledgers, and hammer anchors, among many others, including the SaberDrive Platinum line that is ICC approved. This means that no matter what application you need our heavy duty construction fasteners will give you unmatched durability, longevity, and strength for an unbeatable hold. We know you won't find a better option on the market than the SaberDrive Platinum fasteners, so give us a call and let us know how we can assist you today.
The dedicated professionals at Midwest Fastener takes great pride in providing a wide range of the best light and heavy duty construction fasteners in the industry. Our customers demand the best in quality for their construction needs, and we source from only the best products from top brands, giving you the peace of mind that your construction projects will be successful and last a lifetime.