Top Brands of Construction Fasteners We Offer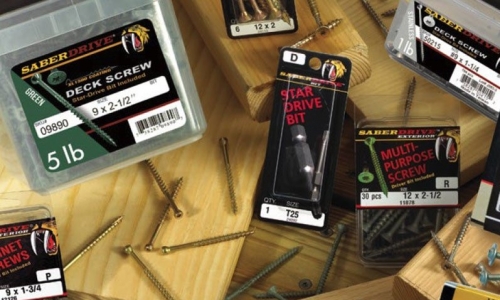 We have high quality construction fasteners from the top manufacturers in the industry. No matter what type of project you have in mind, we can provide you with a wide range of reliable construction fasteners that will help you get the job done right the first time. Suited from everything from light duty to heavy duty and interior construction, our multipurpose screws, trim screws, and more will cover all of your construction needs. From ICC-approved SaberDrive Platinum products to general construction products from BuildRight, you can rest assured that we have the high quality parts you need at prices that will fit your budget. Let's learn more about the top brands that we offer.
BuildRight Quality Makes Your Work Easier
The BuildRight brand of high-quality fasteners from Midwest Fastener will give you the high standard of performance for a wide selection of fasteners, including drywall screws, deck screws, framing screws, and many other essential fasteners. BuildRight are industry leaders in fasteners for home, interior, and light duty construction projects. We will work closely with you to ensure that we can identify and supply the high quality products from BuildRIght that will complete your project within budget and to your exact specifications without the hassle. You can view the BuildRight catalog to find the products you need right on our website.
SaberDrive Fasteners: Better Bite, Better Drive
SaberDrive represents the ultimate in construction screws. Featuring serrated threads and multiple head styles, SaberDrive products are designed for superior performance without any pre-drilling required. With an extensive selection of products that includes deck screws, construction lag screws, structural screws, trim screws, and much more, you get peace of mind knowing that SaberDrive will have the exact products you need in their catalog, which you can view here. When you source your fasteners with us, you also benefit from the many years of experience of our team, who will work with you to get a thorough understanding of your needs and help you find the most effective, efficient, and economical.
For a Bigger Bite, a Better Drive, and Platinum Results
SaberDrive Platinum construction fasteners represent some of the best solutions in the industry. With ICC certification backed by more than 2500 hours of construction-free testing, SaberDrive Platinum fasteners are the most dependable on the market, featuring unmatched sturdiness and durability. Equipped with a spiral-razor tip, these fasteners have an extremely fast bite, making them perfect for heavy duty construction. The cutting blade threads also make for an easy, natural drive that will reduce the possibility of splitting. Finally, you will benefit from an extremely tight fit through the countersinking arc nibs. SaberDrive Platinum is the absolute best on the market, so call us and let us know what you are looking for today.