Quality Fasteners for Your Outdoor Construction Needs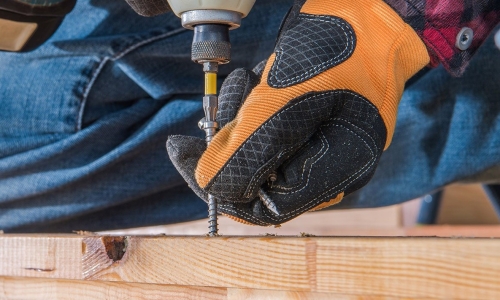 When working on any outdoor construction project, you need durable and reliable screws with a strong bite that will last. If you're planning an outdoor construction project as the weather warms up, you'll be well prepared with a supply of dependable construction screws from Construction Fasteners. A premier supplier of construction screws for builders, contractors, and homeowners throughout the United States, Construction Fasteners has provided its customers with reliable, high-quality fasteners for over fifty years. Offering some of the best brands of construction screws from the industry leading fasteners manufacturers at Midwest fastener, Construction Fasteners offers your outdoor construction project some of the most dependable fasteners on the market with its SaberDrive and SaberDrive platinum brands.
Fasteners with a Strong Bite
Whether you're building a new deck or patio, you can do so confidently with screws from Construction Fasteners. Offering some the industry's best construction screws for light and heavy-duty projects, the SaberDrive brand of construction screws by Construction Fasteners are designed with serrated threads that give them an unbeatable bite that helps them outlast all other fasteners on the market. With a self-drilling design that eliminates the need for pilot holes, SaberDrive construction screws will save you time while providing a sturdy, reliable fastening for your project.
The Most Effective Construction Screws on the Market
While the SaberDrive brand of construction screws works great for light and heavy-duty construction projects, if your project needs strong, high quality, and heavy-duty screws for an even more secure fastening, look no further than the premium SaberDrive platinum brand of construction screws by Construction Fasteners.  Improving upon the design of the SaberDrive brand even further, Saber drive Platinum is one of the most innovative and dependable brands in the industry. With an ICC certified screws that have over 2500 hours of corrosion resistance, a spiral razor tip, and a cutting blade that reduces splitting, if you need lag screws, decking screws, and structural screws for heavy duty applications, then SaberDrive Platinum has the heavy-duty screws that will meet your outdoor construction project's needs.
When you need a screw that provides a heavy duty fastening for your upcoming outdoor construction projects, you can't go wrong with the SaberDrive and SaberDrive Premium brands of Construction Fasteners by Midwest fastener. Locate a dealer, or Contact us today to learn more about the dependable, high quality screws that Construction Fasteners carries.