Get Quality Construction Fasteners from a Reliable Supplier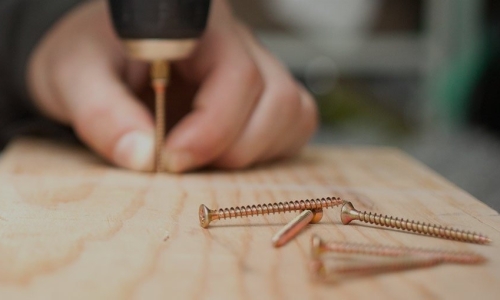 Midwest fastener has been the premier supplier of fasteners in the United States since 1967, and with a great selection of construction fastener products, you can trust that when you choose Construction Fasteners by Midwest Fastener, you are choosing dependable high-quality products.  Construction Fasteners prides itself on being able to give you the most reliable products from its brands.
A Fastener Distributor You Can Rely On
Having been the nations lead fastener supplier for over 50 years, Midwest Fastener has every type of construction fastener you could need for your next project.  From standard fasteners from decking screws, drywall screws, and other multipurpose screws, to heavy duty fasteners like lag, structural, and hex drive concrete screws, there is a construction screw for every job.
Brands From the Top Fastener Manufacturers
When it comes to construction, you need to make sure you have the right fastener for the job. The best screw for drywall replacement probably won't be the best for structural usage. You need to make sure the screw you're using can hold up to the job you're giving it. From Buildright for light duty construction, to SaberDrive and SaberDrive Platinum for more heavy-duty applications, Midwest Fastener's Construction Fasteners brand lines offer the fasteners you'll need for any construction Job.
An Effective and Economical Option
Made for general construction purposes, BuildRight covers any basic  fastener need. From drywall to all-purpose wood screws. Long lasting and durable, BuildRight fasteners are ideal for remodeling projects, repairs and more. For general purposes and light duty construction, BuildRight delivers both affordability and dependability.
A Brand for Fast, Heavy-Duty Construction
When you need a screw with a better bite and drive, SaberDrive is the right choice. Featuring serrated threads, SaberDrive self-drilling screws save you time on your construction project by eliminating the need to drill pilot holes. For an even sturdier and longer lasting fastener, there is SaberDrive Platinum. With ICC-certification, SaberDrive Platinum Improves upon SaberDrive's self-drilling design with 2500 hours of corrosion free testing, and a cutting blade that threads the screw as it drives. One of the most resilient brands, SaberDrive Platinum allows for swift and sturdy construction that doesn't sacrifice quality.
Having been the leading supplier of fasteners in the nation for over five decades, Midwest Fastener offers the best construction fasteners in the industry. Contact us to lean more about our products, or to place your order today!