Construction Fasteners for Summer Projects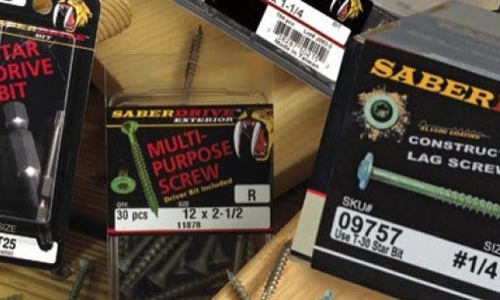 Summer is almost over, so if you have an exterior construction project in mind, now is the time to get things going before the Michigan weather turns on you. For more than 50 years, Midwest Fastener has been providing a full range of high quality construction fasteners to clients throughout the country. Whether you need stainless steel fasteners, industrial fasteners, deck screws, lag screws, or any other type of fastener, you can count on our friendly professionals to provide you with the dependable products you need for successful projects of all scopes and sizes. All of the products we offer come from the best brands on the market, giving you unbeatable value and construction fasteners that will hold for years and years without issue. The innovative SaberDrive Platinum and BuildRight products are consistently refined to maintain their reputation for high quality and dependable performance. In today's post, we will discuss the benefits of Using Construction Fasteners from Midwest Fastener for all of your construction projects.
Construction Fasteners for Light Duty Projects
Perfect for projects from hanging new shelves or a fireplace mantle in your living room to constructing a new deck on the back of your home, our light duty fasteners are specifically designed to hold everything in place securely with a tighter hold than other fasteners on the market. We offer a wide selection of deck screws, crocodile anchors, cement board screws, and many other types of fastener, so no matter what project you have in mind, we have exactly what you need from top manufacturers like SaberDrive Platinum and BuildRight.
Heavy Duty Construction Fasteners for Extra Hold
Some construction projects require stronger construction fasteners, either due to the scope of the project or in situations where inclement Michigan weather could be a factor. One of the best options for projects like these would be our selection of SaberDrive Platinum products, which are ICC approved, so you can depend on them for unmatched durability and strength. Construction Fasteners can provide you with these or BuildRight fasteners for all of your heavy duty construction projects.
Over the last five decades, Midwest Fastener has worked diligently to build and maintain to best selection of quality fasteners in the industry. We also work closely with our clients to foster long-term business relationships, ensuring that you can always get the fasteners you need no matter if you are a weekend do-it-yourselfer or the head of a major construction company. Find out more about the fasteners we have to offer, and feel free to contact us with any question you may have.