Drywall Screws with the Features You Need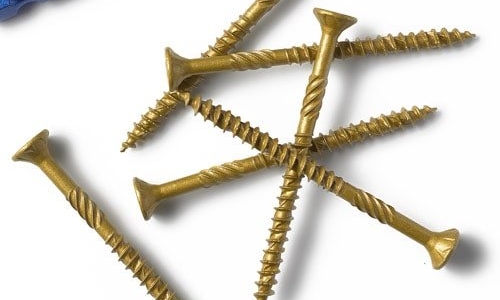 Midwest Fastener is the industry leader in supplying premium, high-quality construction screws for a variety of applications. With a great selection of deck screws, trim screws, drywall screws, and more, we will make sure that you get the durable, efficient fasteners you need to complete any of your projects with a high standard of quality. We are stocked with products from the best brands in the industry – BuildRight, SaberDrive, and SaberDrive Platinum – so you can rest easy knowing that your fasteners will hold strong for years and years. From smaller projects like installing new cabinets to larger ones like remodeling or deck building, there isn't a project on your agenda that our fasteners can't handle. Read further for more information about the features of our high-quality selection of fasteners.
SaberDrive Platinum Fastener Features
SaberDrive Platinum screws are the best on the market; they are ICC certified and have successfully passed 2,500 hours of corrosion-free testing. These fasteners have a faster bite from their spiral-razor tips, making the construction process quicker by reducing the possibility of splitting. The spiral-threaded shank will increase the pull out power while also decreasing the amount of loosening that occurs. In addition to this, you will get the tightest possible fit through the countersinking arc nibs.
SaberDrive Fastener Features
The normal SaberDrive brand of fasteners offer efficient reliability for a wide range of projects. They feature star drive heads to reduce the possibility of cam-out. These fasteners, which do not require pre-drilling, have an exclusive XL1500 coating that is tested according to ASTM B117 rust and corrosion standards. These case hardened screws feature a serrated thread that results in a strong, secure hold every time.
BuildRight Fastener Features
The efficient BuildRight line of fasteners are a more economical option for a wide range of applications, including furniture, dock-building, shelving, and other construction projects. Their extensive selection of durable screws is proven effective to withstand even the harshest conditions. These drywall, deck, trim, and all-purpose screws are available in a large selection of sizes and colors to meet your specific needs.
For the most reliable selection of screws and fasteners, count on the professionals at Midwest Fastener to provide you with everything you need. From smaller home projects to larger commercial construction and everything in between, we have the right fasteners to help you complete the work with a high standard of quality that will last for years. For more information about the fasteners we can provide, please call us and let us know what you are looking for.