Cabinet, Masonry, and Drywall Screws for all of Your Interior Construction Projects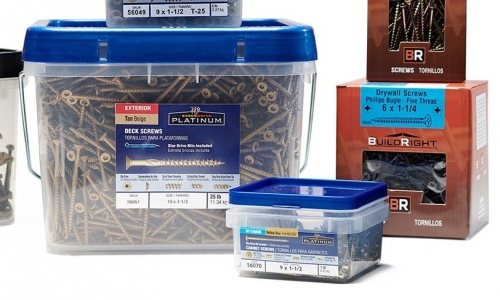 Midwest Fastener offers a wide array of high-quality fasteners for all of your interior construction projects. Our experienced professionals know how important it is that you have the best possible screws and fasteners for a durable construction project that will last for years. We offer products from some of the best brands in the industry, so you can rest assured that we have what you need to make sure you get the project completed to your exact specifications. Take a look at the selection of products we have available and be sure to call us with any questions that you may have.
Products from the Best Fastener Distributors in the Industry
Your construction project requires the best possible products to create a strong, durable building. We carry the best quality products from the most respected brands in the industry, including BuildRight, SabreDrive, and SabreDrive Platinum. With a full range of products, including cabinet screws, wood screws, masonry screws, drywall screws, floorboard screws, and more, we provide you with everything you need for a construction project that will meet – or even exceed – the highest customer expectations. You can take a look at a full catalog of SaberDrive or BuildRight products right on our website. If you need any assistance or have any questions, please give us a call.
Long-Lasting, Effective Construction Screws for Your Project
Many people may take the quality of the screw they are using for granted. This can be a huge mistake that could result in many repairs needing to be done sooner, rather than later. When you get your construction screws from us, you get the peace of mind knowing that your screws are properly engineered and built to last. Whether you are just hanging new cabinets for a smaller remodeling project or you need dry wall screws and masonry screws for more significant work, we will make sure you get the right screws you need at a price that will fit within your budget. Call us today for more details about how we can provide you with the screws you need for your next project.
You wouldn't get to work on a construction project without the proper tools for the job, and the screws you select for your project should be no different. Besides fitting the engineering specifications, you also need to know that the screws you use are well-manufactured for a reliable, durable hold. We look forward to supplying all of the screws you need for all future projects, so let us know what you need today!